Automatic Worksheet Detection
What's new in SQLizer 3.0.9?
We're excited to announce that SQLizer 3.0.9 is available to all customers right now.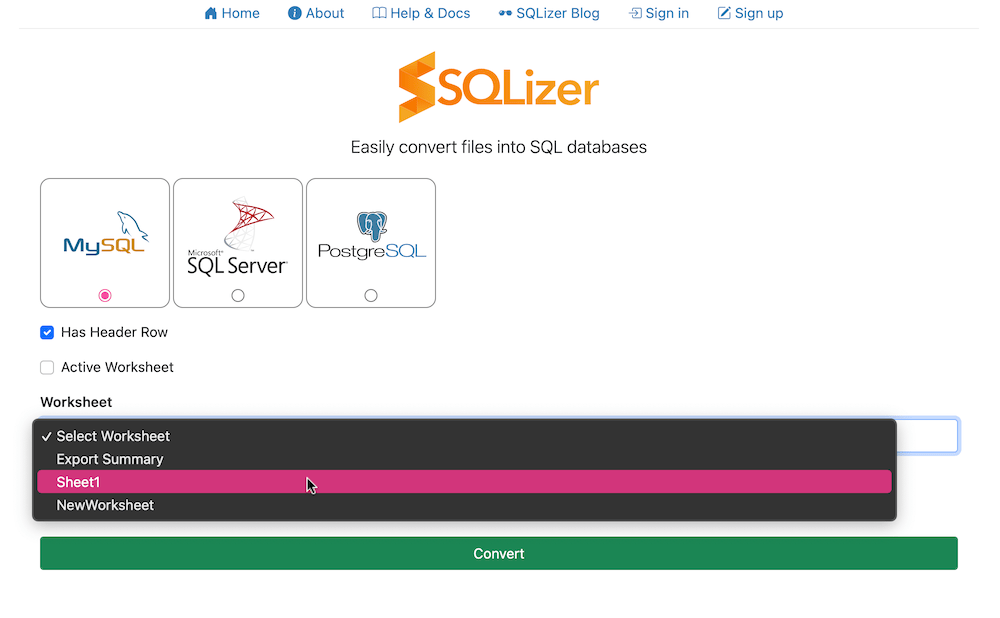 Automatic worksheet detection
Until now, we've asked you to type in the name of the Worksheet you want to convert to SQL from your Excel spreadsheet. How terribly antiquated!
It led to typos and - at the very least - forced customers to go back to their sheet to remember "What did I call that worksheet anyway?".
Now, once your spreadsheet has uploaded, SQLizer will populate a drop-down select with all your valid Worksheets.
Performance improvements on large cell ranges (Excel)
Really large ranges within Excel sheets now convert 18%* faster than before.
Miscellaneous bug fixes
Some minor bugs were squashed.

🖤 SQLizer team.

* We just made that number up, but it's definitely quicker.

About: SQLizer is free for less than 5,000 rows of data for personal use - if you have a >5000 row CSV file you need to convert, use code CONVERTME10 for 10% off your Pro Monthly plan for the first 12 months, or a one-off 10% discount on your Pro Annual plan.

← Previous post • Next post →
---
More from The Official SQLizer blog...